Food Grade Hyaluronic acid for Skin Health
Product Detail
Product Tags
Material name

Food grade of Hyaluronic acid 

Origin of material

Fermentation origin 

Color and Appearance

White powder

Quality Standard

in house standard

Purity of the material

>95%

Moisture content

≤10% (105°for 2hours)

 Molecular weight 

 Around 1000 000 Dalton

Bulk density

>0.25g/ml as bulk density

Solubility

Water Soluble

Application

 For skin and joint health 

Shelf Life

2 years from production date

Packing

Inner packing: Sealed Foil bag,1KG/Bag, 5KG/Bag

Outer packing: 10kg/Fiber drum, 27drums/pallet
1. Fermentation origin is more safe: Our HA is non animal origin. It is produced by bacteria fermentation process, which is safe to use.
2. We are specialized in the production of hyaluronic acid for many years. We are professional in hyaluronic acid Industry.
3. Our manufacturer of HA has the Chinese GMP certificate of Hyaluronic acid. The product is produced in the GMP workshop under GMP quality management system. The quality is guaranteed.
4. We have Different grade of hyaluronic acid available for different applications: The usual molecular weight of sodium hyaluronate is around 1 million Dalton. But we can supply small molecular weight sodium hyaluronate such as 0.5 million, 0.1 million or even smaller than 0.1 million.
Test Items

Specification

Test Results

Appearance

White Powder

White Powder

Glucuronic acid, %

≥44.0

46.43

Sodium Hyaluronate, %

≥91.0%

95.97%

Transparency (0.5% water Solution)

≥99.0

100%

pH (0.5% water solution)

6.8-8.0

6.69%

Limiting Viscosity, dl/g

Measured value

16.69

Molecular Weight, Da

Measured value

0.96X106

Loss on Drying, %

≤10.0

7.81

Residual on Ignition, %

≤13%

12.80

Heavy Metal (as pb), ppm

≤10

<10

Lead, mg/kg

<0.5 mg/kg

<0.5 mg/kg

Arsenic, mg/kg

<0.3 mg/kg

<0.3 mg/kg

Bacterial Count, cfu/g

<100

Conform to the standard

Molds&Yeast, cfu/g

<100

Conform to the standard

Staphylococcus aureus

Negative

Negative

Pseudomonas aeruginosa

Negative

Negative

Conclusion

Up to the standard
 Manufacturing flow chart of Hyaluronic acid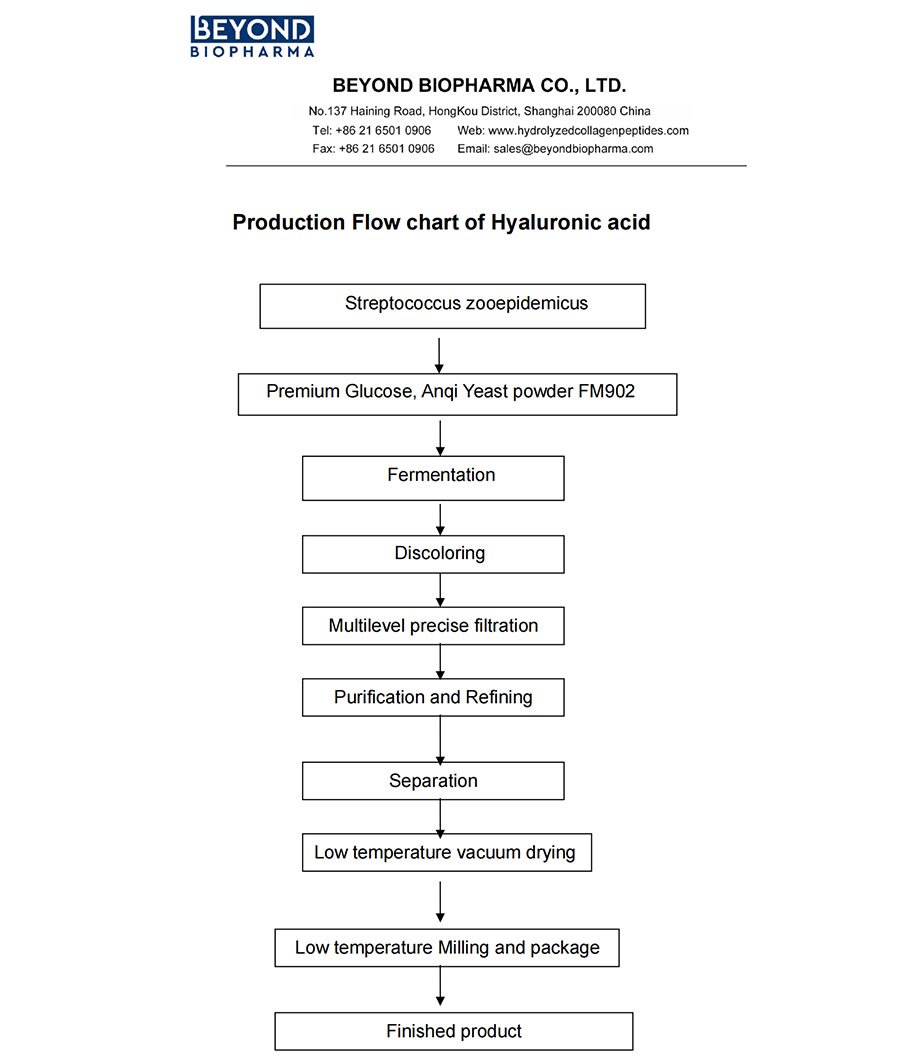 Hyaluronic acid is mainly beneficial for skin. The health functions of hyaluronic acid for the skin are mainly moisturizing, whitening, and increasing skin elasticity.
Hyaluronic acid can be divided into three categories according to its molecular weight, and each category has different effects on skin care:
1. Macromolecular hyaluronic acid (molecular weight range 1 800 000~2200 000) can form a breathable film on the skin surface, making the skin smooth and moist, and can block the invasion of foreign bacteria, dust and ultraviolet rays, and protect the skin from infringe;
2. Medium molecular hyaluronic acid (molecular weight range 1 000 000~1 800 000) can tighten the skin and keep moisturizing for a long time.
3. Small molecule hyaluronic acid (molecular weight range 400 000-1 000 000) can penetrate into the dermis, slightly expand capillaries, increase blood circulation, improve intermediate metabolism, promote skin nutrient absorption, and has a strong anti-wrinkle function, It can increase skin elasticity and delay skin aging.
In terms of skin care, hyaluronic acid mainly has two main applications: injection and external use of skin care products:
1. Injection of hyaluronic acid
Removal of wrinkles: Due to age, smoking, extrusion during sleep, and the traction of gravity, the skin will lose hyaluronic acid, which will gradually reduce the collagen and elastic fibers of the dermis, causing skin relaxation and facial wrinkles. Injection of hyaluronic acid can effectively solve a variety of wrinkles: frown lines, crow's feet, nasolabial lines, mouth lines.
Shaping: Hyaluronic acid shaping is mainly used for rhinoplasty and jaw augmentation.
Lip enhancement: Generally speaking, human lips will shrink with age, wrinkles will appear, and the corners of the mouth will also sag due to aging. Hyaluronic acid filling can achieve the effect of lip enhancement.
Dent filling: Hyaluronic acid can also be used to fill some acne scars, trauma, scars caused by surgery, and asymmetry of congenital defects.
2. External skin care products
Hyaluronic acid is widely added to moisturizing skin care products. Many high-quality skin care products will organically combine three molecular weights of hyaluronic acid. The macromolecules block the outside, making the skin smooth and moist, while the small molecules penetrate the skin and improve the skin. To anti-inflammatory and antibacterial, keep the skin smooth.
In addition, because hyaluronic acid is also a natural moisturizing ingredient in high-end beauty cosmetics, it is widely used in creams, lotions, lotions, essences, facial cleansers, body washes, shampoo expanders, mousses, lipsticks and other beauty products.
Can I have small samples for testing purposes?
1. Free amount of samples: we can provide up to 50 gram of hyaluronic acid free samples for testing purpose. Please pay for the samples if you want more.
2. Freight cost: We usually send the samples via  DHL. If you have DHL account, please let us know, we will send via your DHL account.
What are your Ways of shipment:
We can ship both by air and be sea, we have necessary safety transportation documents for both air and sea shipment.
What is your standard packing ?
Our standarding packing is 1KG/Foil bag, and 10 foil bags put into one drum. Or we can do customized packing according to your requirements.
---
---
Write your message here and send it to us