Bovine Collagen Peptide for Solid Drinks Powder
Product Detail
Product Tags
| | |
| --- | --- |
| Product Name | Bovine Collagen peptide |
| CAS Number | 9007-34-5 |
| Origin | Bovine hides, grass fed |
| Appearance | White to off white Powder |
| Production process | Enzymatic Hydrolysis extraction process |
| Protein Content | ≥ 90% by Kjeldahl method |
| Solubility | Instant and Quick Solubility into cold water |
| Molecular weight | Around 1000 Dalton |
| Bioavailability | High bioavailability |
| Flowability | Good flowabilityq |
| Moisture content | ≤8% (105°for 4 hours) |
| Application | Skin care products, joint care products, snacks, sports nutrition products |
| Shelf Life | 24 months from production date |
| Packing | 20KG/BAG, 12MT/20' Container, 25MT/40' Container |
1. Grass Fed and pasture raised Bovine hides.
Our bovine collagen peptide is extracted from grass-fed and pasture raised cow hides. Grass fed and pasture raised cows are the cows farmed in natural pasture. They are fed with natural grass rather than feeds.
2. Good looking white color
Bovine Collagen Peptide produced by Beyond Biopharma is with natural white color appearance. We adopted the advanced manufacturing technology to process the bovine hides so that our bovine collagen is with good looking white color appearance.
3. Totally Odorless Powder with Neutral Taste
Bovine Collagen Peptide produced By Beyond Biopharma is totally odorless with neutral taste. Odor and taste are very important character of collagen powder because it will affect the quality of the finished dosage form. Bovine Collagen peptide with high quality should be totally odorless with natural neutral taste.
4. Quick solubility into Water
Solubility is another key character of bovine collagen peptide because some of finished dosage forms of collagen powder need instant solubility into water. Bovine collagen peptide produced by Beyond Biopharma is able to dissolve into even cold water very quickly.
Solubility of Bovine Collagen Peptide: Video Demonstration
Testing Item

Standard

Appearance, Smell and impurity

White to slightly yellowish granular form

odorless, completely free from aby foreign unpleasant smell

No impurity and black dots by naked eyes directly

Moisture content

≤6.0%

Protein

≥90% 

Ash

≤2.0%

pH(10% solution, 35℃)

5.0-7.0

Molecular weight

≤1000 Dalton

Chromium( Cr)  mg/kg

≤1.0mg/kg

Lead (Pb)

≤0.5 mg/kg

Cadmium (Cd)

≤0.1 mg/kg

Arsenic (As)

≤0.5 mg/kg

Mercury (Hg)

≤0.50 mg/kg

Bulk Density

0.3-0.40g/ml

Total Plate Count

<1000 cfu/g

Yeast and Mould

<100 cfu/g

E. Coli

Negative in 25 gram

Coliforms (MPN/g)

<3 MPN/g

Staphylococus Aureus (cfu/0.1g)

Negative

Clostridium ( cfu/0.1g)

Negative

Salmonelia Spp

Negative in 25 gram

Particle Size

20-60 MESH
1. We are professional in Collagen Industry: Beyond Biopharma has been producing and supplying bovine collagen peptide powder since 2009. We have over 10 years' experience in Collagen industry.
2. State of Art Production Facility: We have dedicated production lines equipped with stainless pipes and tanks to ensure the hygiene of our bovine collagen peptide. All the production process are done in a closed sealed environment to control the microorganism of our bovine collagen peptide.
3. Well established Quality Management System: We have well established quality management system including ISO 9001 Verification, US FDA Registration etc.
4. Full testing in our own Laboratory: We have self-owned QC laboratory with necessary equipment for all testing needed for our products.
1. It plumps and hydrates the skin. Bovine Collagen Peptide supplements may slow the aging process, and skin elasticity improves after supplementing with a similar hydrolyzed collagen supplement for four weeks.
2. Bovine Collagen Peptide helps improve digestion and heal the gut.
Since collagen is a component of the connective tissue and lining of the gut, increasing collagen intake may help repair leaky gut.
3. Bovine Collagen Peptide can improve muscle strength.
All proteins are important for building muscle, and bovine collagen peptide is no exception. Bovine Collagen peptide is a concentrated source of the amino acid glycine, which helps your body produce creatine. Creatine has been shown to help increase muscle mass and improve athletic performance.
Hydrolyzed Bovine collagen peptide is also easier to digest than other popular proteins like whey, making it a smart addition to your pre-workout smoothie and less likely to cause stomach upset. In preliminary studies, it has also been shown to help relieve chronic joint pain and osteoarthritis symptoms.
4. Bovine Collagen Peptide can make you fall into deeper sleep.
Glycine, the most abundant amino acid in bovine collagen peptide, has great sleep properties. A review of studies shows that glycine intake before bed improves self-perceived sleep quality in people prone to insomnia.
5. Bovine Collagen peptide strengthens nails and promotes hair growth.
Bovine Collagen peptide increases hair growth and strengthens nails. In one small study, participants who took 2.4 grams of collagen peptides daily for 24 weeks experienced a 12 percent increase in the rate of nail growth and a 42 percent decrease in the frequency of nail breakage, suggesting that collagen promotes growth and strengthens nails.
| | |
| --- | --- |
| Amino acids | g/100g |
| Aspartic acid | 5.55 |
| Threonine | 2.01 |
| Serine | 3.11 |
| Glutamic acid | 10.72 |
| Glycine | 25.29 |
| Alanine | 10.88 |
| Cystine | 0.52 |
| Proline | 2.60 |
| Methionine | 0.77 |
| Isoleucine | 1.40 |
| Leucine | 3.08 |
| Tyrosine | 0.12 |
| Phenylalanine | 1.73 |
| Lysine | 3.93 |
| Histidine | 0.56 |
| Tryptophan | 0.05 |
| Arginine | 8.10 |
| Proline | 13.08 |
| L-hydroxyproline | 12.99  (Included in the Proline) |
| Total 18 types of Amino acid content | 93.50% |
Basic Nutrient

Total value in 100g Bovine collagen type 1 90% Grass Fed

Calories

360

Protein

365 K cal

Fat

0

Total

365 K cal

Protein


As is

91.2g (N x 6.25)

On dry basis

96g (N X 6.25)

Moisture

4.8 g

Dietary Fiber

0 g

Cholesterol

0 mg

Minerals


Calcium

<40mg

Phosphorous

< 120 mg

Copper

<30 mg

Magnesium

< 18mg

Potassium

<  25mg

Sodium

<300 mg

Zinc

<0.3

Iron

< 1.1

Vitamins

0 mg
Bovine Collagen peptide is a nutritional ingredient that is widely used in foods, cosmetics, dietary supplements products. Bovine collagen peptide can be added into Nutrition bars or snacks to provide energy. Bovine Collagen peptide is mostly produced into solid drinks Powder for those who works out in the gym for muscle building purposes. Bovine Collagen peptide can also be added into Collagen Sponge and Collagen face cream.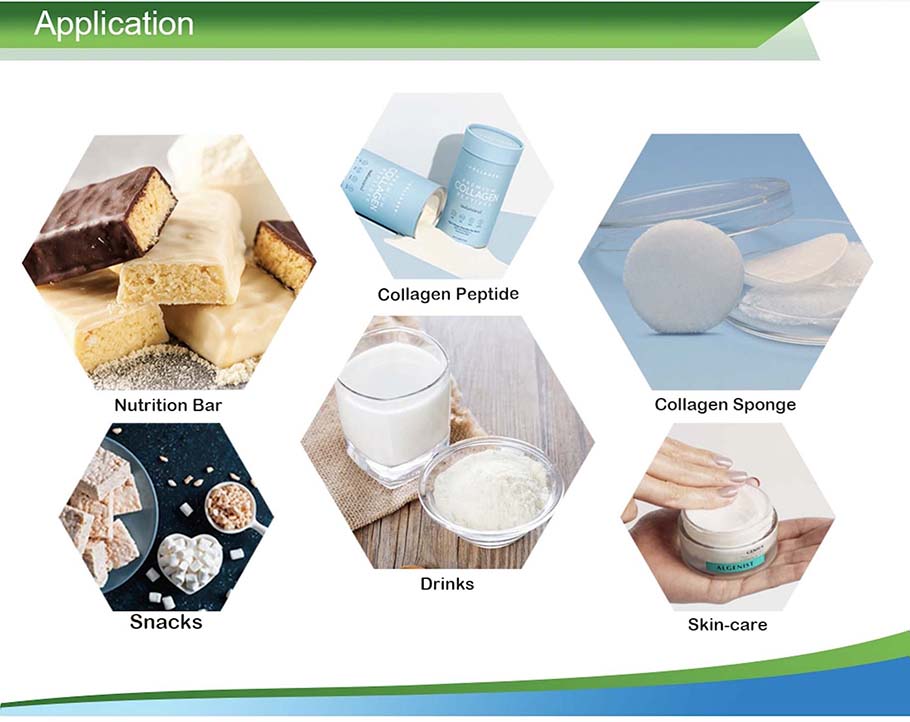 1. Solid Drinks Powder: Solid Drinks Powder is the most common products that containing bovine collagen peptide. Bovine Collagen peptide in Solid Drinks Powder form is with instant solubility and is able to dissolve into water quickly.
2. Tablets: Bovine Collagen Peptide can also be compressed into Tablets together with other ingredients such as chondroitin sulfate, glucosamine, and Hyaluronic acid. Bovine Collagen peptide is a popular functional ingredient for joint health purposes.
3. Capsules: There is also dietary supplements products in capsules form which containing bovine collagen peptide.
4. Energy Bar:  Energy bar is another application form for bovine collagen peptide. In the energy bar products, bovine collagen peptide works as a nutritional ingredient to provide energy because it is consisted of around 18 types of amino acids. 
5. Cosmetic products: Bovine Collagen peptide is also added into Face creams or face masks for skin whiten purpose.
| | |
| --- | --- |
| Packing | 20KG/Bag  |
| Inner packing | Sealed PE Bag |
| Outer Packing | Paper and Plastic Compound Bag |
| Pallet | 40 Bags / Pallets = 800KG |
| 20' Container | 10 Pallets = 8MT, 11MT Not palleted |
| 40' Container | 20 Pallets = 16MT, 25MT Not Palleted |
1. What is your MOQ for Bovine Collagen Peptide?
Our MOQ is 100KG
2. Could you provide sample for testing purposes?
Yes, we can provide 200 gram to 500gram for your testing or trial purposes. We would appreciate if you could send us your DHL account so that we can send out the sample via your DHL Account.
3. What documents can you provide for Bovine Collagen Peptide?
We can provide full documentation support, including, COA, MSDS, TDS, Stability Data, Amino Acid Composition, Nutritional Value, Heavy metal testing by Third Party Lab etc.
4. What is your production capacity for Bovine Collagen Peptide?
Currently, our production capacity is around 2000MT per year for Bovine Collagen Peptide.
---
---
Write your message here and send it to us